Harley Davidson XG 500 Street 2014- 2015 JMT Lithium Ion Battery HJTX20H-FP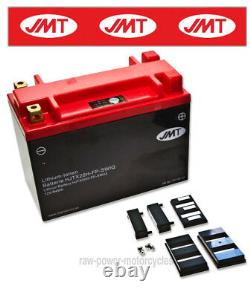 Lithium-ion batteries by JMT, High-technology for your motorcycle. The latest generation of batteries are identified by the red cover. Spacer (S) Batteries may be equipped with one or more spacers that are taped withadhesive tape under the battery so that the battery fits exactly intothe original battery box. Waterproof (W) The battery is completely waterproof and is not damaged, even if the motorcycle is cleaned with high pressure. Indicator (I) All batteries are equipped with a battery condition indicator. Simply press the test button. When all three blue LEDs light up thebattery is fully charged(ful). If it lights only 2 LEDs, it is only halfcharged (med).
When only one LED is lit (low), the battery must becharged immediately. Replacing a standard lead-acid battery by a JMT lithium-ion batter can save you up to up to 5 kg in weight with minimum effort.
JMT lithium-ion batteries have the following benefits: - About 1/3 of the weight of comparable lead acid battery - Unbeatable ratio of cost/weight savings - Can be mounted in any position - no acid spillage - Does not contain heavy metals - Balanced discharge/charge of all cells by the integral balancer - Fast charging with high ampage systems (up to 90% fully charged in only 6 minutes) - Very low self-discharge - long shelf life (up to 5% per month) - Excellent performance at high temperatures (even up to 60° C) - Safe technology and high durability Lead-acid batteries only use 30% of their capacity whilst nearly 100% of the capacity of lithium-ion batteries is used. For this reason, lithium versions of JMT batteries need only 1/3 of thecapacity of a comparable lead-acid battery for the same starting power. A uniform charging of all the cells is ensured by a built-in processor (the "balancer"). The dimensions of the lithium-ion batteries (using adapters wherenecessary)correspond to the dimensions of the original lead-acidbatteries and the connections are identical, thus the battery can bereplaced easily in a few minutes. IMPORTANT Please note that only suitable battery chargers are used, such as theJMP 800, JMP 4000 or the corresponding workshop equipment. For fast charging, we recommend the JMP 30000 workshop unit.
With this alithium-ion battery can be charged up to 90% within 6 minutes. For themaximum recommended charging currents please refer to the technical databelow. In no case must chargers be use that have a de-sulphate mode for deeplydischarged batteries i. E showing 10 volts or less These chargers usean output of more than 14.9 volts before they begin the actual chargingcycle. The maximum charging voltage of 14.9 volts must not be exceeded in anycase, as in extreme circumstances there can be a danger of explosion.
Although this lightweight battery is extremely suitable for everydayuse, it should be noted that the starting capacity is reduced attemperatures below zero degrees Celsius. Technology - JMT lithium-ion batteries are manufactured using a cathodematerial of iron phosphate (LiFePO4) and lithium-polymer. The technology and the manufacturing process ensure the highest safety standard for lithium batteries.
12 V maintenance-free lithium-ion battery - Recommended charging current 3.5 A - Maximum charging current for fast charging 28 A Comparable in moderation and connections with: Yuasa Mfr No. YTX20H-BS YTX20-BS YB16-B-CX YB16-B YB16C-B YB18-A Y50-N18A-A YTX20HL-BS YTX24HL-BS YTX15L-BS YTX18L-BS YTX20L-BS YB16HL-A-CX Y50-N18L-A-CX YB16L-B YB16L-A2 YB16CL-B YB18L-A YB18L-A2 Y50-N18L-A Y50N18L-A2 Y50N18L-A3 SYB16L-B SY50-N18L-AT. This item is in the category "Vehicle Parts & Accessories\Motorcycle Parts\Electrical & Ignition Parts\Batteries". The seller is "raw-power-motorcycles" and is located in this country: GB.
This item can be shipped to United Kingdom.
Manufacturer Part Number: HJTX20H-FP
Brand: JMT

---