Denali 2.0 CANsmartT Controller for Harley-Davidson Street Bob 114 FXBB 2022-23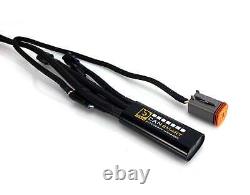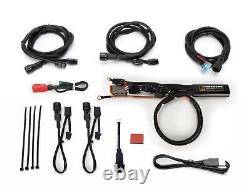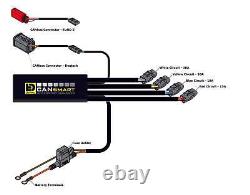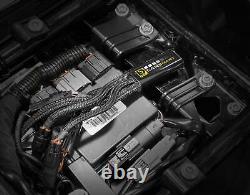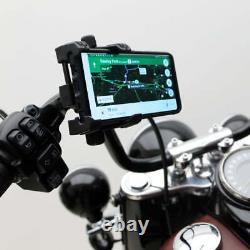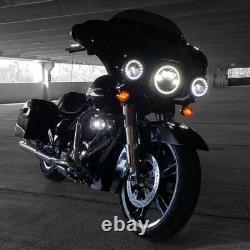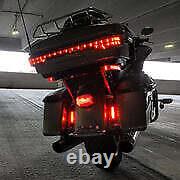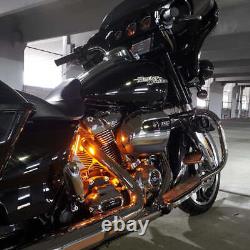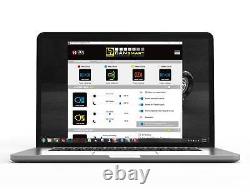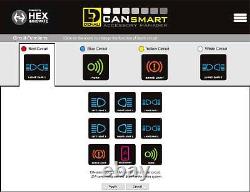 Denali 2.0 CANsmartT Controller GEN II V-Twin. Denali Lights -Conquer the night!
The ground-breaking Harley-Davidson CANbus controller provides plug & play connection and intelligent control of aftermarket and genuine Harley-Davidson accessories right from your bike's original switches or DENALI Accessory Manager Software. Simply connect the CANsmartT Controller to your Harley-Davidson diagnostic port to access over 35 programmable accessory settings that provide intelligent control of factory passing lamps, auxiliary lights, horns, brake lights, or any other accessory you can imagine.
The four accessory circuits are electronically fused and can provide up to 25 peak amps (10 amps continuous). High/Low Sync - Set passing lamps and auxiliary lights to switch between a programmable high/low setting with the factory high beam switch.
ON/OFF and Dim - Independently control two sets of lights ON/OFF and change intensity level (for both day and night) right from your bikes factory trip switch. Modulate Lights - Set passing lamps or auxiliary lights to modulate to increase your visibility to other motorists. Flash to Pass - Need to get someone's attention? Pulse your high beam switch three times and your auxiliary lights will strobe three times fast. Cancel With Turn Signal - This feature cancels the corresponding auxiliary light when you turn your turn signal on preventing powerful auxiliary lights from overpowering your signal. Flash With Turn Signal - This features flashes the corresponding auxiliary light when you turn your turn signal on, enabling auxiliary lights to function as turn signals. Plug & Play Horn Installation - Quickly and easily connect high power aftermarket horns like our SoundBombT without having to add an additional harness or relay. Strobe with Horn - With this feature selected the CANsmartT software will automatically strobe your passing lamps or auxiliary lights when you sound your horn. This feature works whether you have the factory horn or SoundBombT horn installed. Deceleration Activated "Smart Brake" Technology - The CANsmartT reads vehicle speed in real time to activate your auxiliary brake light during deceleration before you even touch the brake. You can adjust the sensitivity and minimum speed at which the Smart Brake Feature will activate.
Flash Pattern Braking - The CANsmartT provides four different flash patterns that make our super bright auxiliary brake lights even noticeable to motorists behind you. You can set auxiliary brake lights to only flash under hard braking, flash continuously as your brake is applied or flash four times rapidly then hold steady (California legal flash rate). Compatible with Genuine Harley-Davidson Accessories - We prefer DENALI lights, but Harley has got some sick lighting too.
The CANsmartT can provide "smart brake" and flash pattern braking to a wide variety of accessories including Harley-Davidson aftermarket LED brake lights. Switched Power Source - The CANsmartT provides a universal "accessory" option which simply gives you clean switched 12V power. That means whatever accessory you connect to this circuit will turn on and off with your ignition. Delay Time Out - You can also set the accessories on this circuit to have a delayed time out. This will keep them powered for up to 30 seconds after your turn off your bike. What's In The Box? CANsmartT Controller (x2) 5.5ft Light Extension Cables (x2) OEM Passing Lamp Wiring Adapters 5ft SoundBomb Horn Extension Cable B6 Brake Light Wiring Adapter Zip-ties Adhesive Hook-and-Loop Fastener Micro USB Programming Cable EURO 5 Connector for use with specific bike fitments CANsmartT Accessory Manager Software. This kit includes both styles of Harley-Davidson diagnostics port connectors Use the red EURO 5 connector on 2021 and newer models.
Please note : When choosing DENALI 2.0 LED Auxiliary Lights for use with the CANsmart order the PODs only. As with all aftermarket products some times small modifications can be required to fit some products. It is recommended that a competent mechanic fit these products.
Please note the image may be for display purposes only, and may not show the exact product supplied, the correct product will be supplied as for the bike listed. Although more than one product may be seen in the image, only the product specified in the listing is included.

---