ANTIGRAVITY 2007-2016 FLHX Street Glide Harley-Davidson ANTIGRAVITY LITHIUM BATT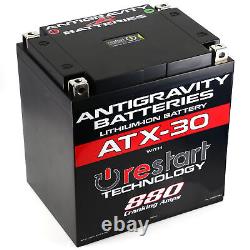 The vendor part number is ANTAG-ATX30-RS. Please read title carefull to know what you are getting. The Antigravity Restart lithium battery is the first battery manufactured with built-in jump-starting technology, so you won't ever get stranded with a dead battery again!
The Restart batteries features include a BMS (battery management system) with over and under voltage and thermal protection along with real time lithium ion cell balancing. Compact, lightweight lithium-ion battery directly replaces many OEM powersport batteries and can also be used in custom applications. For custom/high performance applications, make sure to match the cranking amps needed for the application to the appropriate battery. Antigravity only recommends the use of a powersports specific lithium battery charger.

---